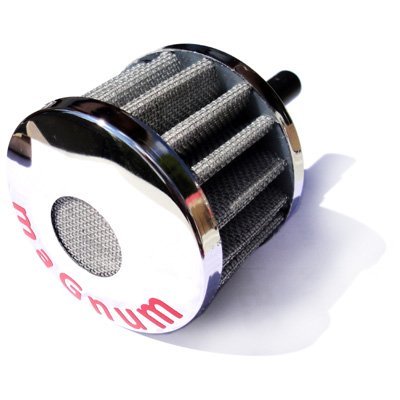 (Photo: Credits)
THIS CRANKCASE VENT FILTER INSTALLS UNIVERSAL & WILL FIT YOUR VEHICLE IF ITS CRANKCASE HOSE MEASURES IN INTERNAL DIAMETER OF 3/8″ – 10 mm up to 9/16″- 14 mm.
Measures 2 3/8″ – 60 mm in diameter and 2 1/8″ – 53 mm in high. Washable Crankcase Breather also referred to as crankcase vent, ventilation filter is a small filter provides an air release to prevent build up of pressure within the crankcase.
They ensure that your engine does not reuse any oil contaminated air that could cause poor running and a lack of power. Performance Chrome style breathers had been designed for upgraded engines starving for maximum crankcase breathing filtration.
INSTALLATION:
1. Remove the crankcase hose off of the stock air filter box.
2. Pull the hose in your breather's Mounting tab. If hose is too long, cut it. Replace the hose by a longer one if you want to place the filter under-chassis or any other convenient place.
3. Tighten the hose on the tab with a clamp.
4. Make sure, intake from where you removed the hose, is sealed properly.
MAINTENANCE When pores fouled, needs to be cleaned with any brand special air filter cleaner. HOSE CLAMP required – NOT INCLUDED Recommended to use factory clamp.
---