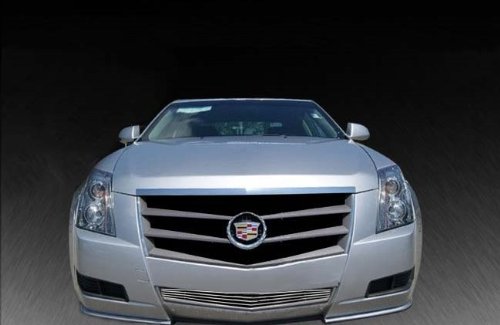 This boltover grille shown above is also called bolton, overlay, slap on and EZ billet grille in after market grille industry. It is designed to fit a 2008-2013 Cadillac CTS. It is the easiest, least time-consuming to install. Rather than completely replacing your existing grill work, a Bolt Over Billet Grill sits right on top of your existing one with bolts and nuts.
No cutting is required. Bolt over grilles suit the buyer who can't modify their vehicles (such as they lease the vehicle and have to return in a certain time) or who don't feel comfortable to do any modifications to their vehicles.
Built from air craft grade 6061-T6 aluminum with solid 1/2″ billets, light but superior durable. Black satin powder coating with shining polished front edge. Multiple-step polishing process offers a mirror-like finish.
Grab your own Horizontal Billet Polished Aluminum Grille over on Amazon for around $31.93 plus FREE Shipping!
ASIN: B00D9TQZEE
Manufacturer Part Number: BG-CA001
Package Dimensions: 31 x 4 x 4 inches
---