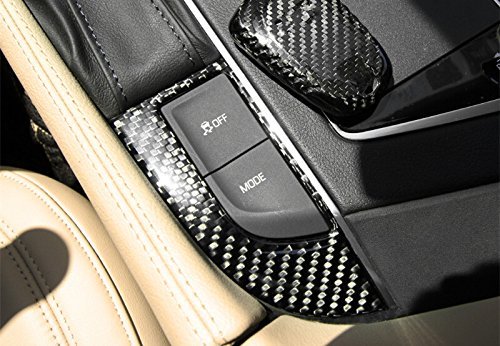 Want to add some carbon fiber to the inside of your Cadillac CT6? How about around the center console gear box like shown in the image above? The shown center console gear box button cover is designed to fit a 2016 – 2018 Cadillac CT6.
Installation Instruction:
Clean the place where you need to paste and then wipe the water with towel or tissues.
It can't accept to have the oil, water, wax etc.
Determine the installation location and then make comparison of the product and installation location.
When tear off the double-sided adhesive of cover trim, you can't touch the double sided paste with hand.
In order to achieve better effect, we suggest to heating double sided adhesive by hair dryer or lighting.
Alignment position and then paste, the paste depends on paste conditions and correct way to install.
Please pressing 20-30 seconds or more when paste and don't dip the item into the water within 48 hours.
The above directions are provided by the seller over on Amazon. If you're looking to add this to your Cadillac CT6 then heads on over and grab yours for around $21.88 with FREE Shipping.
ASIN: B07CYY54WW
Material: Made Of High Quality Carbon Fiber
Manufacturer Part Number: 263642772948